Black Bear Hunting in Colorado

GMU 40 - Mesa County
This 750 square mile unit consists of a relatively flat summit leading to sloping mesas bisected by deep, rugged canyons. The highest elevation range is approximately 9,800ft.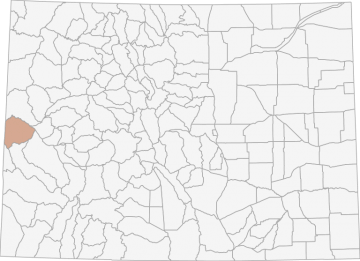 Access Notes
---
With A Free Account Get:
Satallite and Topo Layers
Public Landownership Layers
Roads and Trails Layers
Burn Layers
Water Tank Layer (AZ Only)
20% Discount on HuntStand Pro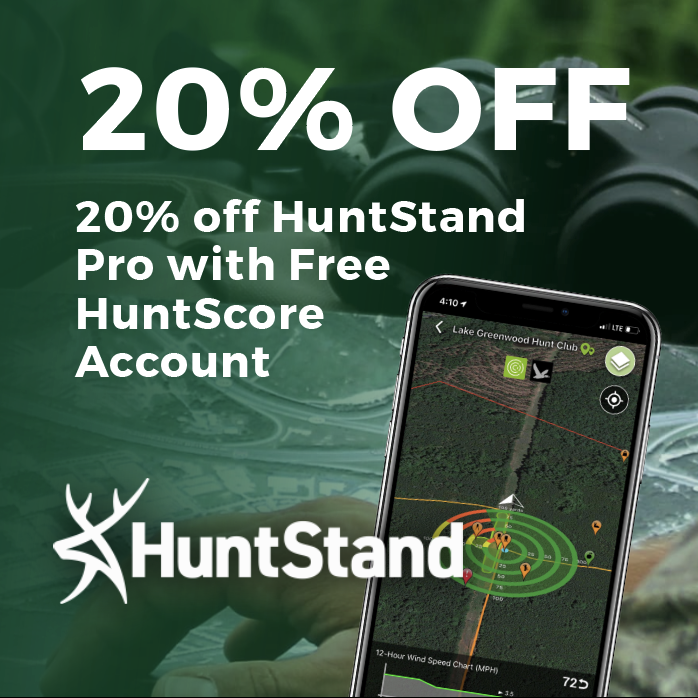 Bounded on N by Colorado River; on E by US Highway 50; on S by County Highway 141 and Dolores River; on W by Utah.
Roads provide access to the mesas, but many of the canyons are remote and accessible only by foot or horseback. This unit has a lot of private land, and public access to BLM is often difficult to reach by vehicle. The main population center in the DAU is found in the Grand Valley, in Grand Junction and Fruita. The land ownership in this unit is unique in Colorado.
Unlike many areas in western Colorado, public lands in this unit are generally found at lower rather than higher elevations. The most productive lands in this unit are generally found at the intermediate and higher elevations. These higher elevations were homesteaded rather than the dryer, less productive lands at lower elevations.
Black Bear Notes
---
With A Free Account Get:
Toggle between terrain, satellite, and topographic views
Additional species-specific map layers
HuntScore Tip
Public land and private land percentages can sometime be misleading. A unit may have 80% public land, but a particluar species may only occupy 20% on the entire area. And that 20% species distribution may lie 100% within private lands. Does that sound confusing? Just remember that there are always exceptions to the rule, and land ownership is just one piece of the puzzle.
Photos and Terrain Notes
---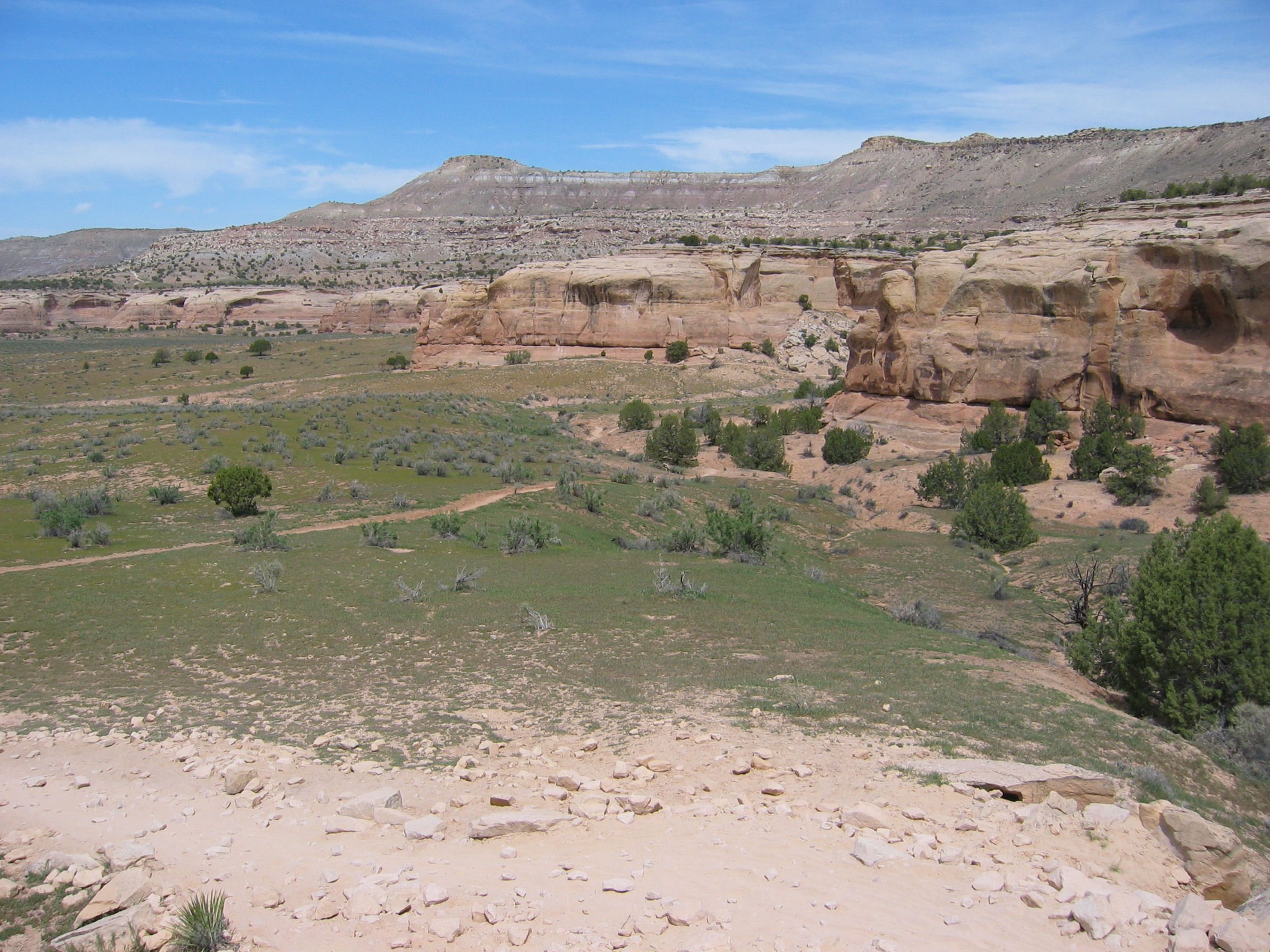 This 750 square mile unit consists of a relatively flat summit leading to sloping mesas bisected by deep, rugged canyons. The highest elevation range is approximately 9,800ft. This unit can be broadly divided into two units: Glade Park, in the northern portion and piñon Mesa rising south and west of Glade Park. The unit is called both piñon Mesa and Glade Park and the two are often used interchangeably.
The topography varies greatly in the unit. The highest elevations in the unit are at its center and from there elevation decreases in all directions. The highest point is approximately 9,700 feet at the south-center of the unit. The lowest point is where the Colorado River meets the UT state line at approximately 4,600 feet.
The Colorado River forms the northern boundary of the unit. Interstate 70 parallels the Colorado River, forming a significant barrier which restricts elk movements throughout the northern portion of the unit. Additionally, nearly vertical sandstone canyons on the north end of the unit prohibit much elk movement to the north. Along the eastern boundary, the Gunnison River and the city of Grand Junction, as well as the desert-like, open terrain act as a natural barrier restricting elk movement.
The Unaweep Canyon forms the eastern and southern boundary of the unit and is a well-known geologic feature. It is a broad, steep-sided canyon composed of both granite and sandstone formations. Two creeks, East Creek and West Creek, flow out of either end of the canyon. The Dolores River forms the southern boundary of the unit for a short distance north of the town of Gateway and to the UT state line.
The western boundary, the Colorado-Utah state line, is not marked by significant natural boundaries to elk movement. Sandstone canyons are one of the dominant geologic features of this unit. The terrain on the south side of the Colorado River from the Colorado National Monument (COLM) west to the state line is noted for its expansive sandstone canyon system. This area, including the COLM, Black Ridge Canyons Wilderness Area, and the McInnis Canyons National Conservation Area, has extensive canyon systems.
The Colorado, Gunnison, and Dolores Rivers surround the unit. The Little Dolores River is one main drainage that originates in the unit. The highest elevations in the unit receive significantly more precipitation than lower elevations, and perennial and intermittent streams are quite common. There are no large natural lakes in the unit.
Small reservoirs have been constructed for livestock water, irrigation, and municipal use for the town of Fruita. The wide range of the terrain in this unit provides a variety of physical features that elk populations find very suitable for their year-round needs. Due to this variety of landscape features, large numbers of elk can be supported in this herd unit. Elk summer ranges are found in the center of the unit.
Elk are forced to migrate to lower elevations during the winter. Annual precipitation ranges from about 8 inches in the desert country near Grand Junction to over double that amount in the highest elevations of the unit. Much of the annual precipitation is in the form of snow. Vegetation in this unit varies due to the wide range of elevations.
Vegetative communities grade into each other in response to slope and aspect. Higher elevations, which receive considerably more moisture, are composed of aspen and spruce-fir forests. Ponderosa pine and oakbrush communities are found just below the aspen/spruce/fir zone. piñon-juniper woodlands are found on the lower and intermediate slopes throughout the unit.
These piñon-juniper woodlands are usually found in the lower, drier areas. Sagebrush and snowberry are commonly found in open areas in the oakbrush zone at intermediate and higher elevations. Sagebrush is found throughout the unit at lower elevations also. Desert shrubs types, including greasewood and sagebrush are found along drainages at the lower elevations.
Irrigated cropland and grassland with half-shrub mixtures and grass/alfalfa meadows are found in the valleys and on Glade Park. Irrigated crops include corn, grains such as wheat, barley, and oats, and alfalfa and grass grown for pasture and hay. River bottoms along the Colorado and Dolores Rivers are dominated by cottonwood trees and other species including willows, boxelder and alders. Tamarisk is also found along the river corridor, particularly at the lower elevations near Grand Junction and Gateway.
The vegetation in the unit has been extensively managed for livestock forage production. Cattle grazing occurs throughout the unit and domestic sheep were historically grazed in significant numbers. Although there is still significant cattle production, domestic sheep are found only in small flocks on ranchettes. In addition to grazing, the vegetation has been heavily influenced by other human activities.
Natural fire has been excluded and suppressed for many years. However, several significant fires in recent years have occurred in the unit. These fires have burned in predominantly piñon-juniper woodlands, improving overall winter range conditions, particularly for elk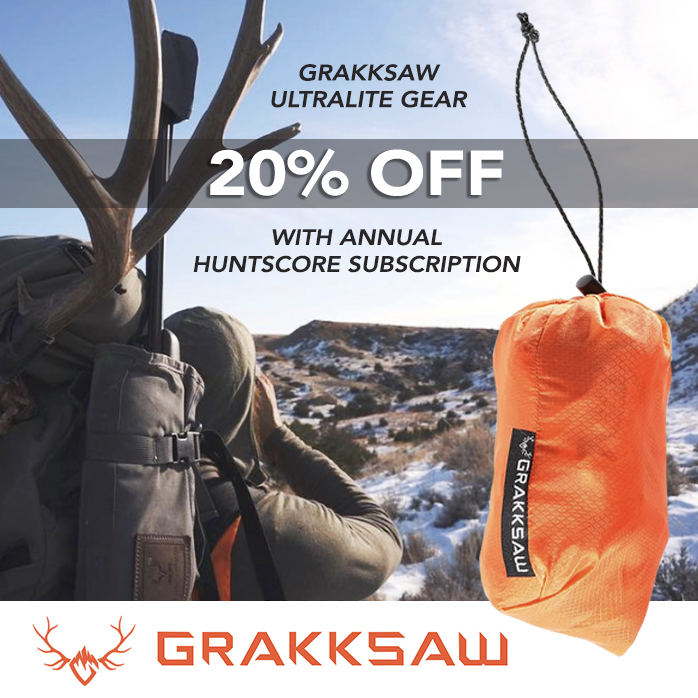 Black-bear Over The Counter Hunts (2021)
---
There are 4 OTC hunts in this unit. Go Pro to view the details!
Go Pro and get:
The ability to filter OTC units by residency and manner/sex
Over the counter unit hunts listed with:

Residency Requirements
Season and Manner of Take Restrictions
Season Dates
Black-bear Drawing Stats (2021)
---
62.9%
Overall Unit
1st Choice Draw Odds
Choose a hunt below to take a deeper dive into quotas, drawing odds, drawing trends, and harvest data.

| | | | | | | | | |
| --- | --- | --- | --- | --- | --- | --- | --- | --- |
| | BE040O1R | E | R | O1 | LL | 56.2% | 68 | |
| | BE040O1M | E | M | O1 | LL | 100% | 71 | |
| | BE040O1A | E | A | O1 | LL | 100% | 72 | |
HuntScore Tip: Ninety to ninety-five percent of Colorado's GMUs require no preference points - or just a single preference point - in order to draw a limited license in those units.
Go Pro and get:
Drawing trends across multiple years
Individual hunt quotas
1st choice license applications and licenses drawn
Draw odds for resident and nonresident applicants
Minimum preference points to draw
Point creep plots
Black-bear Harvest Stats (2019)
---
| | | | | | | | | |
| --- | --- | --- | --- | --- | --- | --- | --- | --- |
| A | A | | E | 0 | 2 | 2 | 0 | 0 |
| ANY | | | E | 0 | 19 | 12 | 7 | 0 |
| ANY | ALL | | E | 0 | 19 | 12 | 7 | 0 |
| R | P0 | | E | 0 | 8 | 3 | 5 | 0 |
| R | R | | E | 0 | 9 | 7 | 2 | 0 |
HuntScore Tip: Also keep in mind that past performance doesn't necessarily guide future success. Warm weather during the previous year may have limited harvest. Cold and snowy weather may have sent hunters home early the previous year, limiting the harvest. You may have better conditions. Look at the 3-5 year trends and not a specific year.
Go Pro and get:
Harvest trends across multiple years
Harvest stats by hunt_code, manner, season, sex, type
Average harvest rates
Average days per hunter
Overall harvest trends
Weather Insights
---
Weather can vary by elevation. See how weather varies by elevation within a unit by selecting an elevation range. Elevation ranges are based on weather stations in or near the unit. Not all weather elements are available within the unit.
Average Temps
Use temperature ranges to plan and prepare for your hunt. Large swings indicate a good layering system should be used. Be sure to make note of the extreme temperatures as these often pose the greatest risk to hunters. If you plan on hunting in higher elevation, as a rule of thumb, expect the tempture to decrease roughly 5° for every 1000' in elevation gain.
WITH A FREE ACCOUNT GET:
Precip totals by month
Snow depth by month
Min/Max precip and snow depth
Average # of days between precip or snow event