Elk Hunting in Colorado

GMU 444 - Eagle, Garfield,

and

Pitkin Counties
Early seasons find elk anywhere from 7500ft to above timberline. With increased hunting pressure and snow, herds tend to move to remote areas or private landsÐaway from roads and hunters.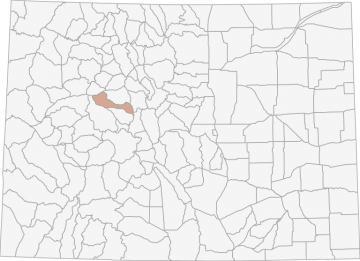 <
Access Notes
---
With A Free Account Get:
Satallite and Topo Layers
Public Landownership Layers
Roads and Trails Layers
Burn Layer (Coming Soon)
Water Tank Layer (Coming Soon)
Bounded on N by Colorado River, Cottonwood Creek, Eagle County Road10A, (Cottonwood Pass Road), US Forest Service 514 (Red Table Mountain Road) and Fryingpan-Eagle River divide; on E by divide between Lime Creek and N Fork of Fryingpan River and its tributaries and Cross Creek-Homestake Creek drainages; on S by Ivanhoe Creek and Fryingpan River; on W by Roaring Fork River.
About 40% of the area is wilderness (Hunter-Fryingpan, Maroon Bells, Raggeds, Collegiate Peaks) and vehicles are not allowed. These rugged areas offer increased hunting success, but require horseback/packin camps. Hunting pressure is moderate. There are large blocks of private lands in GMU 43 east of Hwy 133 and in the western part of GMU 444.
Elk Notes
---
With A Free Account Get:
Toggle between terrain, satellite, and topographic views
Additional species-specific map layers
Early seasons find elk anywhere from 7500ft to above timberline. With increased hunting pressure and snow, herds tend to move to remote areas or private landsÐaway from roads and hunters. The wilderness areas are a good bet for success but hunters must hike or horseback as motorized travel is prohibited. Try Snowmass Creek, Conundrum Creek, Capitol Creek, Avalanche Creek, Difficult Creek, McFarland Creek, Maroon Creek, Thompson Creek, Basalt Mountain, Four-mile, the Marble area, and the upper Frying Pan drainages.
Kobey Park and Sloans Peak are good but deep snow and bad roads should be expected, especially later in the seasons
HuntScore Tip
Public land and private land percentages can sometime be misleading. A unit may have 80% public land, but a particluar species may only occupy 20% on the entire area. And that 20% species distribution may lie 100% within private lands. Does that sound confusing? Just remember that there are always exceptions to the rule, and land ownership is just one piece of the puzzle.
Photos and Terrain Notes
---
This area encompasses the Roaring Fork, Frying Pan and Crystal River drainages. The lower elevations (6500ft) are primarily developed or agricultural. Timberline is around 11,500ft and there are 14,000ft peaks in the Wilderness Areas. Be prepared for daytime highs of 75F dropping to 20F at night.
Snow can exceed several feet in the higher elevations and moisture can make roads dangerous or impassible. 4WD is a necessity. Vegetation types in this unit are largely determined by elevation and aspect (Figure 5). The mountain peaks above approximately 11,600 feet contain mostly bare rock or alpine communities.
Spruce-fir grows mostly between the elevations of 8,000 and 11,600 ft. Aspen and aspen-conifer mixes dominate the slopes from 7,000 to 8,500 feet. Mountain shrubs show up on lower slopes near 7,000 feet. piñon-juniper covers the lower foothills, and sagebrush parks appear on the more level sites as elevation drops.
Riparian vegetation runs along the creeks and rivers. Elk prefer a diversity of vegetation types in close proximity to cover and forage.

The vegetation in this DAU can be categorized into five main groups: cropland, riparian, rangeland, forest land, and alpine.

Cropland is found in the valleys at the low elevations and is mostly hay grounds of timothy, orchard grass, wheat-grasses, and alfalfa.
Much of this habitat type has been lost due to land development in the Roaring Fork and Eagle River Valleys. Some of the better cropland areas occur in the Spring Valley, Gypsum Creek and Brush Creek areas. Riparian vegetation is found along the major creeks and rivers. This community supports the greatest number and diversity of plant and animal species.
Cover types range from sprucefir, blue spruce, Douglas fir, ponderosa pine, aspen, narrowleaf cottonwood, and various species of willow. Some of the largest riparian areas occur along the Roaring Fork and Eagle Rivers. Rangelands consist of sagebrush, mountain shrubs, Gambel's oak, and grassland communities. Sagebrush is the most common land cover at the lower elevations.
Rabbit brush, western and slender wheatgrass, and native clovers commonly grow with the sagebrush. Mountain shrubs include serviceberry, snowberry, mountain mahogany, and Gambelfts oak. The shrublandsft grasses, forbs and browse provide an important forage source for elk in the winter, spring and fall transition months. Grasslands occur on the more level sites in forested areas (large bunchgrasses such as Thurber's fescue, wildrye, needlegrass, and broome) and in the alpine areas (Idaho and Thurber's fescue, Sandberg bluegrass, blue bunch wheatgrass mixed with forbs).
Forest communities fall into 5 major groups: piñon-juniper, aspen and aspen-conifer mix, Douglas fir, lodgepole pine, and spruce-fir. piñon-juniper covers the foothills. They provide good thermal and escape cover but poor forage. This type is well represented on the lower elevations just south of the Eagle River.
Aspen and aspen-conifer mixes occupy the middle elevations. The understory consists of emerging conifers (where aspen is not the climax species), lush grasses and forbs, and some shrubs. This community provides important cover and summer forage areas for elk. Some of the larger aspen stands are located in the Beaver Creek and Cottonwood Pass area.
Douglas fir shares the middle elevation zone mostly on the moister sites on north facing aspects, but is much less represented than the aspen ecosystems. It is a long-lived species valued for wildlife habitat diversity, scenic value, and big game cover. Lodgepole pine grows in even aged stands generally above the aspen and below the spruce-fir. In mature stands, the dense overstory limits the growth of understory forage, but provides good cover.
This type is well represented in the middle elevations along the Frying Pan River and in the Vail area. Throughout portions of the DAU, the lodgepole stands have been infected by pine bark beetle. There will be a significant ecosystem-wide change that occurs when the infected trees die and are harvested or simply fall to the ground. The overstory will be reduced and there will be a conversion to grass and forb type vegetation.
Spruce-fir (Engelmann Spruce, Subalpine Fir) dominates the higher elevations up to tree line. This habitat provides excellent summer cover and forage site for elk. This is the most common forest type in the Holy Cross and HunterFrying Pan Wilderness areas. Alpine sites occur in the high mountain peaks and basins.
Grasses, sedges, and numerous forbs are present. Short willows grow in moister areas. These sites provide excellent summer forage areas and a place for elk to avoid the pesky insects of summer.
Elk Drawing Stats (2020)
---
100%
Overall Unit
1st Choice Draw Odds
Choose a hunt below to take a deeper dive into quotas, drawing odds, drawing trends, and harvest data.

| | | | | | | | |
| --- | --- | --- | --- | --- | --- | --- | --- |
| | EM444O4R | M | R | O4 | LL | 100% | 73 |
HuntScore Tip: Preference points are earned when you apply for a limited license but are unsuccessful in drawing a license for your first-choice hunt or when you purchase a point through the application process. Many hunters collect points and also hunt each year. Researching the number of points required for the GMUs you want to hunt is useful before applying.
Go Pro and get:
Drawing trends across multiple years
Individual hunt quotas
1st choice license applications and licenses drawn
Draw odds for resident and nonresident applicants
Minimum preference points to draw
Point creep plots
Elk Harvest Stats (2019)
---
| | | | | | | | | |
| --- | --- | --- | --- | --- | --- | --- | --- | --- |
| A | A | N/A | N/A | 164 | 11 | 11 | 0 | 0 |
| ALL | ALL | N/A | N/A | 731 | 77 | 77 | 0 | 0 |
| M | M | N/A | N/A | 70 | 19 | 19 | 0 | 0 |
| R | O1 | LL | M | 11 | 2 | 2 | 0 | 0 |
| R | O1 | N/A | N/A | 11 | 2 | 2 | 0 | 0 |
| R | O2 | N/A | N/A | 249 | 41 | 41 | 0 | 0 |
| R | O3 | LL | F | 2 | 0 | 0 | 0 | 0 |
| R | O3 | N/A | N/A | 204 | 4 | 4 | 0 | 0 |
| R | O4 | LL | M | 33 | 0 | 0 | 0 | 0 |
| R | O4 | N/A | N/A | 33 | 0 | 0 | 0 | 0 |
| R | R | N/A | N/A | 497 | 47 | 47 | 0 | 0 |
HuntScore Tip: Harvest statistics are only taken at the unit level and include all harvests of a particular species by a particular manner. However it doesn't go to season level detail. For example, all rifle hunts (Season 1, Season 2, etc) are combined to a single total.
Go Pro and get:
Harvest trends across multiple years
Harvest stats by hunt_code, manner, season, sex, type
Average harvest rates
Average days per hunter
Overall harvest trends