HuntScores by State & Species
The North American Model of wildlife management has helped game numbers across a variety of species rebound to sizable populations. Across elk, antelope and deer in the five states we currently cover, there are thousands of hunts, draws and tags hunters can apply for. Across Arizona, Colorado, Idaho, Montana and Wyoming there are hundreds of thousands of tags to be won!
| Species | Hunt Codes | Quota/Tags | Applicants |
| --- | --- | --- | --- |
| Antelope | >750 | >130,000 | >400,000 |
| Deer | >1,600 | >270,000 | >690,000 |
| Elk | >1,700 | >230,000 | >600,000 |
The table above shows just how staggeringly successful the United States has been in bringing back wildlife populations from the days of Teddy Roosevelt. Take elk for example, a quarter million tags are available by draw in 2019. This doesn't include over the counter (OTC) or unlimited tags. It's a staggering number and still demand far outpaces supply. Roughly 40% of those wanting the opportunity to hunt elk will get it. These hunts make it possible for hundreds of thousands of hunters to participate in wildlife management, hiking, camping and gaining a connection with the natural world.
For hunters this plethora of wildlife is a blessing but with so much opportunity comes a lot of choice. With all the choice, it can be difficult to find the mule deer hunt in sage brush country you'd like to do this year. Planning that hunt for a B&C antelope hunt in 4 years can be exceptionally harder since both time and trophy potential are factors. Our HuntScore, FreezerScore and TrophyScore aim to make picking the best game management unit or hunt codes easy. You shouldn't get frustrated figuring out how to join the 40% of folks hunting elk this year.
HuntScores By State & Species
What follows is an analysis showing how our HuntScore and FreezerScore are distributed across game management units for 3 species and five states. Consider this our State of the Union address for hunters. Use it to quickly take the pulse of different opportunities across Arizona, Colorado, Idaho, Montana and Wyoming. The first plot is of HuntScores.
The plot above is a swarmplot and shows the score distributions color coded by species. We show antelope, deer and elk. Swarmplots allow one to quickly pick out patterns and do visual comparisons. There's a ton of information packed into the plots so we'll break it down. If you aren't familiar with our scores, read up here . Our HuntScore is geared toward the guy or gal that wants a good chance at drawing a tag, have plenty of public land to hunt and an opportunity of harvesting an animal. Here are some key takeaways:
Wyoming is a HuntScore gem. Nearly all of its units across every species has a decent score. Arizona isn't a slouch either!
Very few hunts score over 80. Its tough! I hunt scoring over 80 means easy to draw tags, great access and a good chance of success. However, if you want such a tag, don't plan on shooting elk. Rather, go for a speed goat!
Montana elk hunting can be a tough draw, take longer and have difficult public access. Montana is also artificially low as HuntScore does not yet incorporate Block Management (BM) land. BM land provides roughly 25% more public access to hunt. So look for us to incorporate that in the near future and Montana scores to rise because of that.
There are many general patterns you can quickly see:
In Colorado - Pronghorn take the day, there are some real solid elk units and deer tend to rank lower than elk
Montana deer hunting is very solid, followed by antelope then elk
Arizona has good deer and antelope opportunities and proportionally fewer elk tags
Wyoming is a pronghorn mecca, with a bunch of good elk units.
Idaho is a pretty mixed bag with a bunch of decent units for every species.
FreezerScores By State & Species
Likewise we also show how our FreezerScore stacks up (pun intended). So if you like the eating wild game as much as you like hunting it, look for a solid FreezerScore. HuntScores and FreezerScores are correlated but diverge significantly for around 30% of units.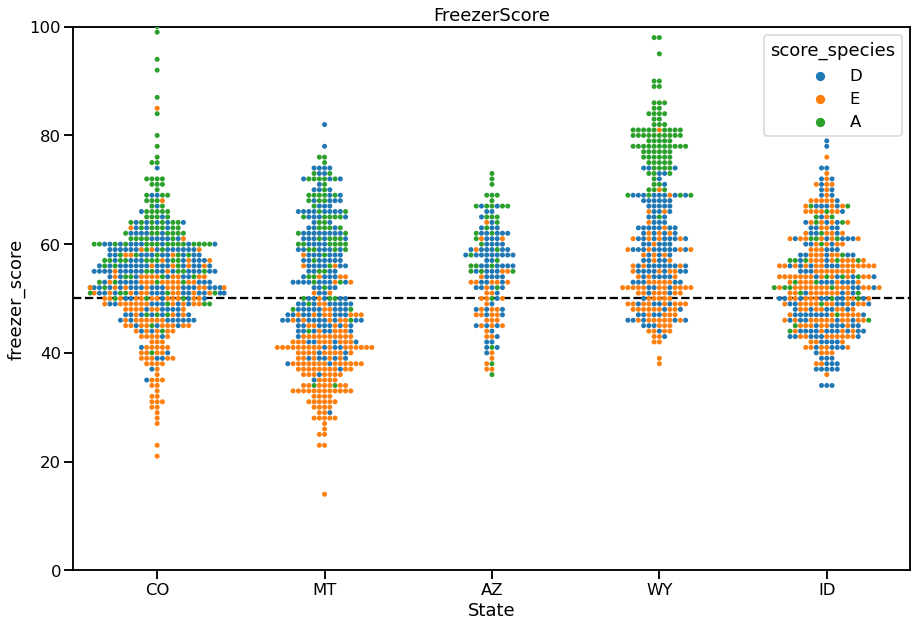 What are the takeaways from our FreezerScore analysis?
If your freezer is filled with Antelope it should be! These North American speed demons are plentiful and easy to harvest.
Increase your chances of passing up tag soup for venison chilli by going after mulies and whitetails.
If you don't like convention, hunt Idaho! It shows not discernable pattern like the other states. If you are an elk hunter looking to fill a tag, it is probably your best chance!
Posted: September 13, 2020