Over the years we've missed a few big game draw deadlines. It happens! Life gets busy, things get in the way and while we always meant to apply we never got around to hitting submit. Sometimes we didn't find the time to research the units or tags properly and let the draw deadline slip by. Our goal at HuntScore is to make sure draw research is easy and you never forget about an application deadline...or leftover license opportunity or really any hunting opportunity. So we built out a reminder platform to let you receive SMS & email reminders so you don't forget to apply. We'll happily be your nagging spouse telling you not to forget to submit your application!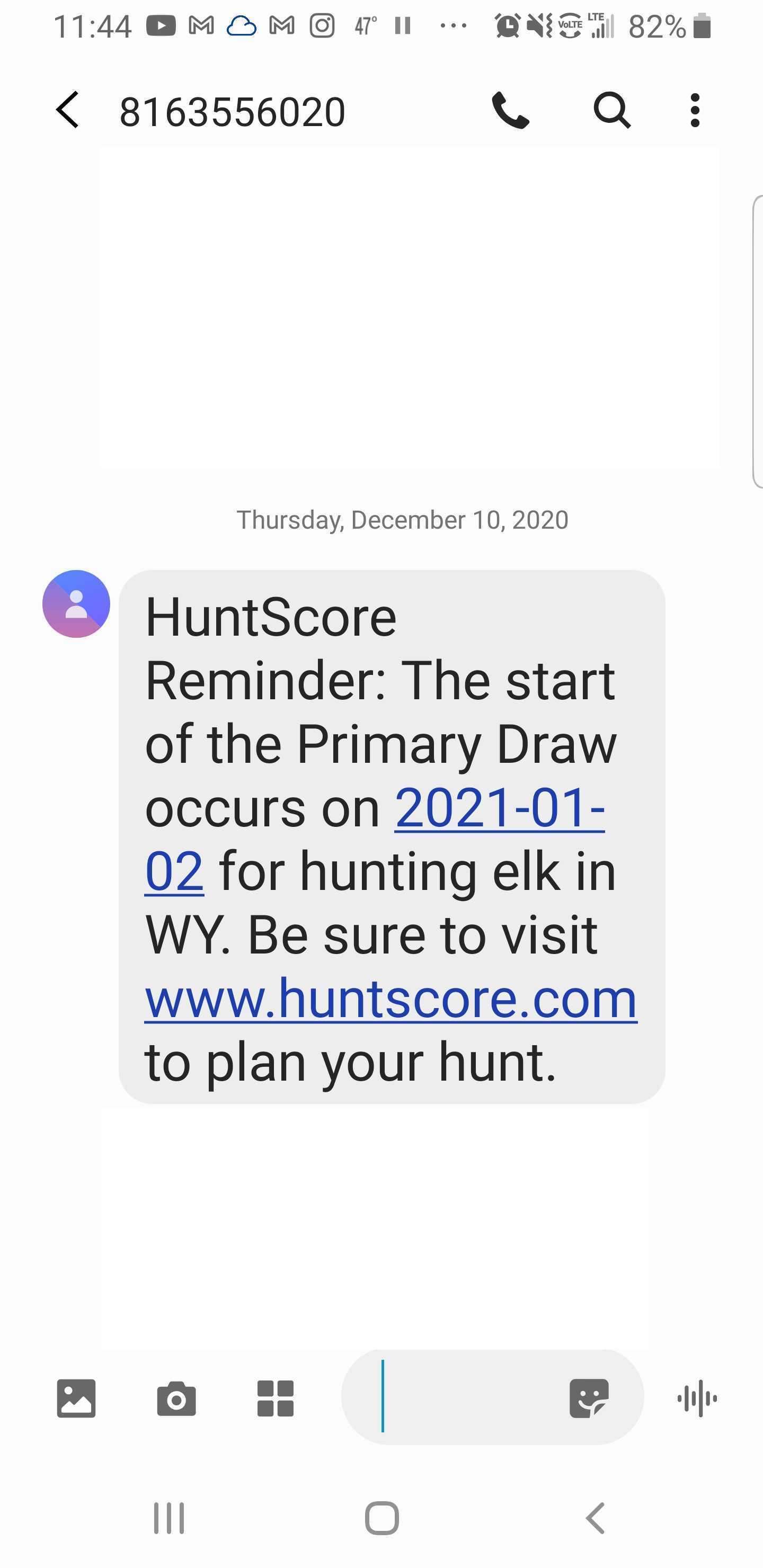 The reminder above is a great way to make sure you never miss another deadline again. We'll dig into how to set up Reminders below. It's super simple so you can keep living life and leave the bean counting to us.
HuntScore Reminders

To access reminders you simply navigate to the Profile Settings page by clicking the drop down navigation under your login name. On the profile page you can update your address and contact details, change your password, set up reminders and setup alerts. If you want to receive SMS messages, you'll need to enter your phone number and update your profile.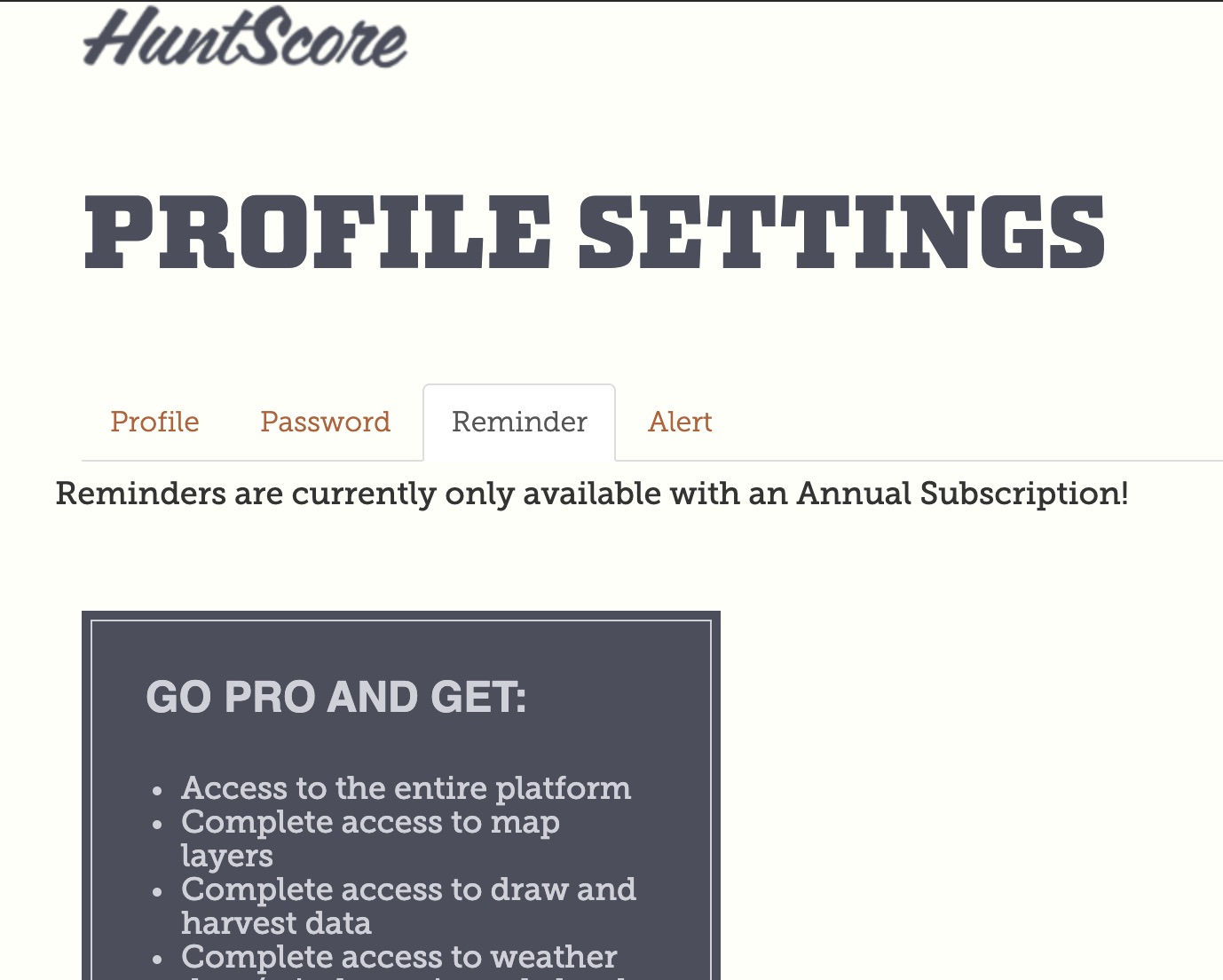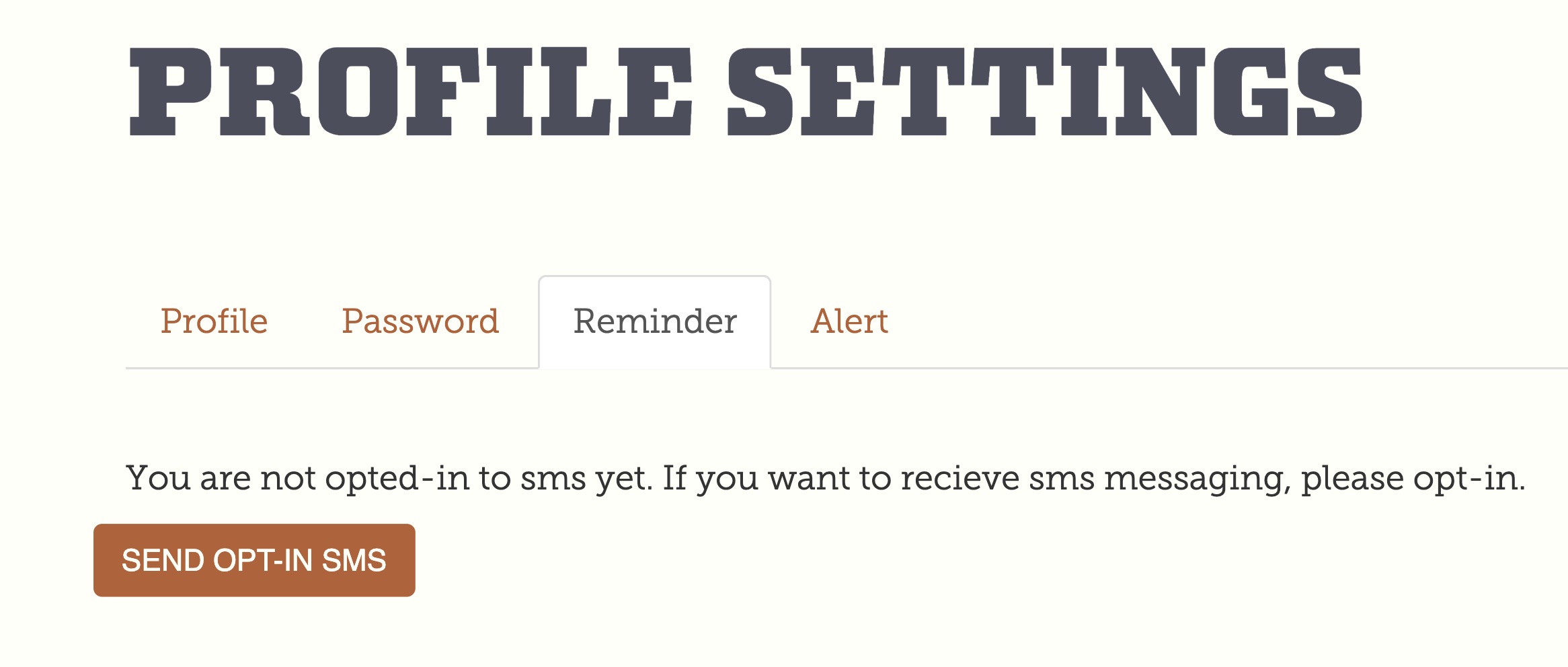 If you don't have an annual subscription, you'll see the image above on the left letting you know this feature is only for annual subscribers. Otherwise you'll see the image on the right asking you to opt-in to sms notifications if you'd like to get sms reminders or alerts. If you do, click the button and make sure to reply "START". This will guarantee your carrier and our messaging service let sms reminders and alerts reach you.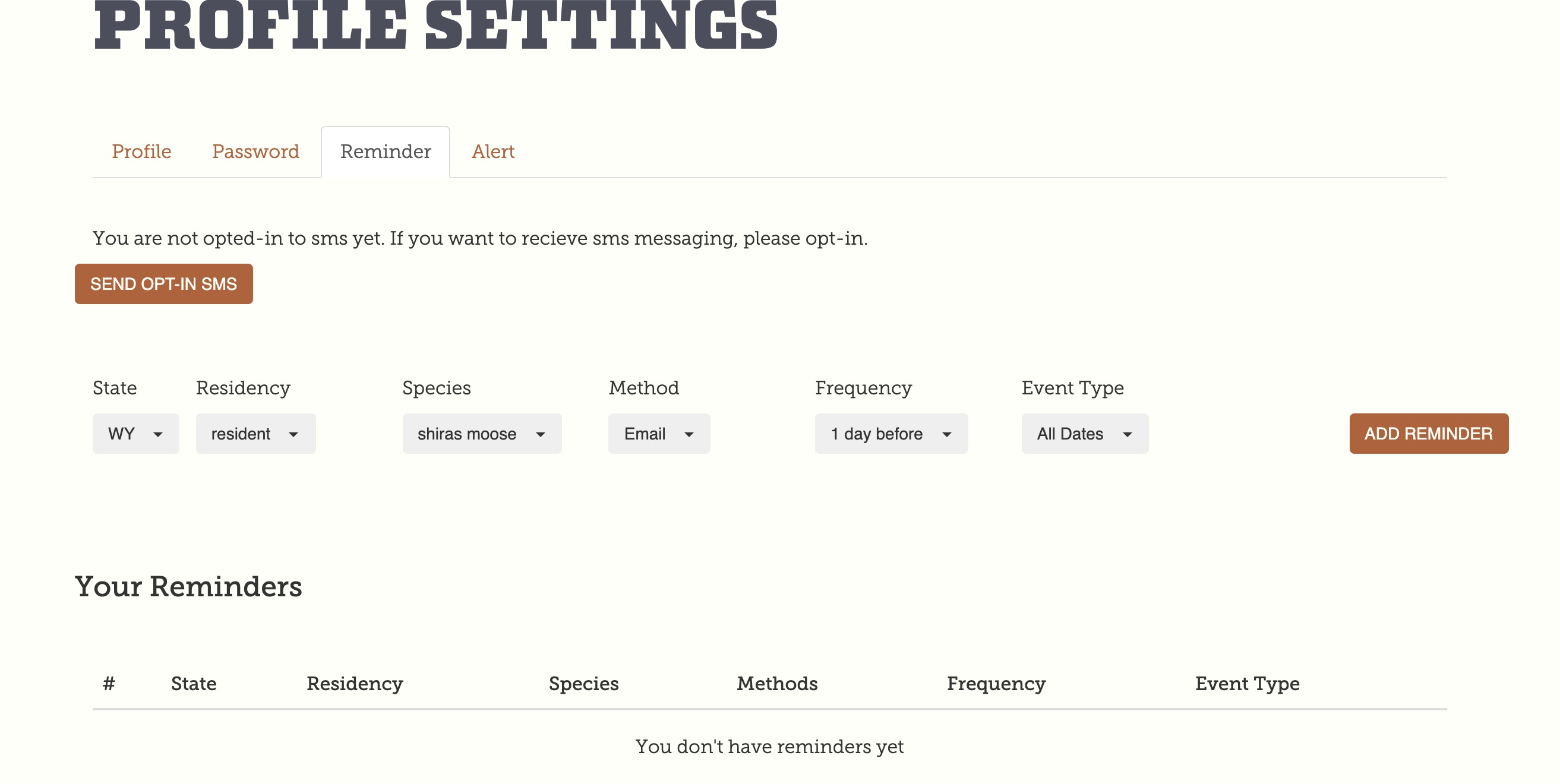 Annual Pro subscribers will see the option to add reminders pictured above. Reminders can be tuned based on a hunter's interests across 6 different options. The option breakdown is:
State - select the applicable states you intend to hunt


Residency - some draw deadlines, over the counter or leftover tag sales vary based on residency. We handle the minutiae and make sure you get alerted.


Species - you can select each individual species you are interested in hunting. We cover nearly every big game species in each state.


Methods - no this isn't method of take! This is the method by which you want to be notified. Currently we cover sms and email. We'd use passenger pigeons but some of our ancestors hadn't recognized the importance of conservation yet.


Frequency - You can be alerted anywhere from 1 to 30 days before the event date. Schedule one or two or 10 different reminders, whatever will help you get on that computer, table or phone and get your application in.


Event Type - Check out the screen shot below, we cover every type of date you can think of. If we missed one let us know. The start and end of draw deadlines, OTC sales, preference point sale dates and leftover sales. We make sure you won't miss anything. If you just want to be super certain you won't miss anything, just select "All Dates" and we'll notify you any time a date comes up for any deadline.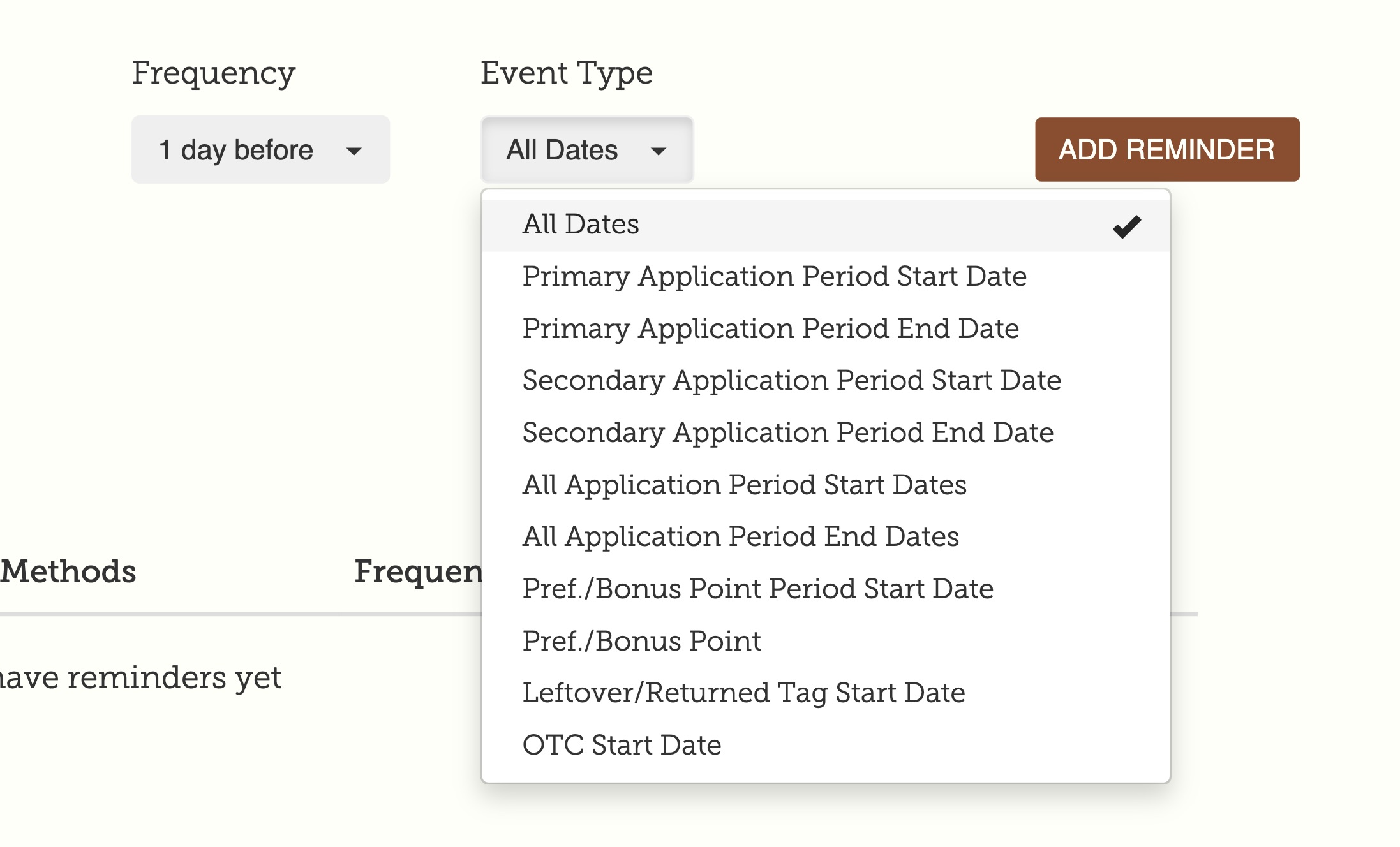 When you add a reminder, you can easily remove it or pause it. All of your reminders will show up in the "Your Reminders" table below. Pausing a reminder will prevent you from getting notifications but allow you to not have to add it again. You can resume a reminder at any time. So that's it! Set up your reminders today and never miss another big game application date!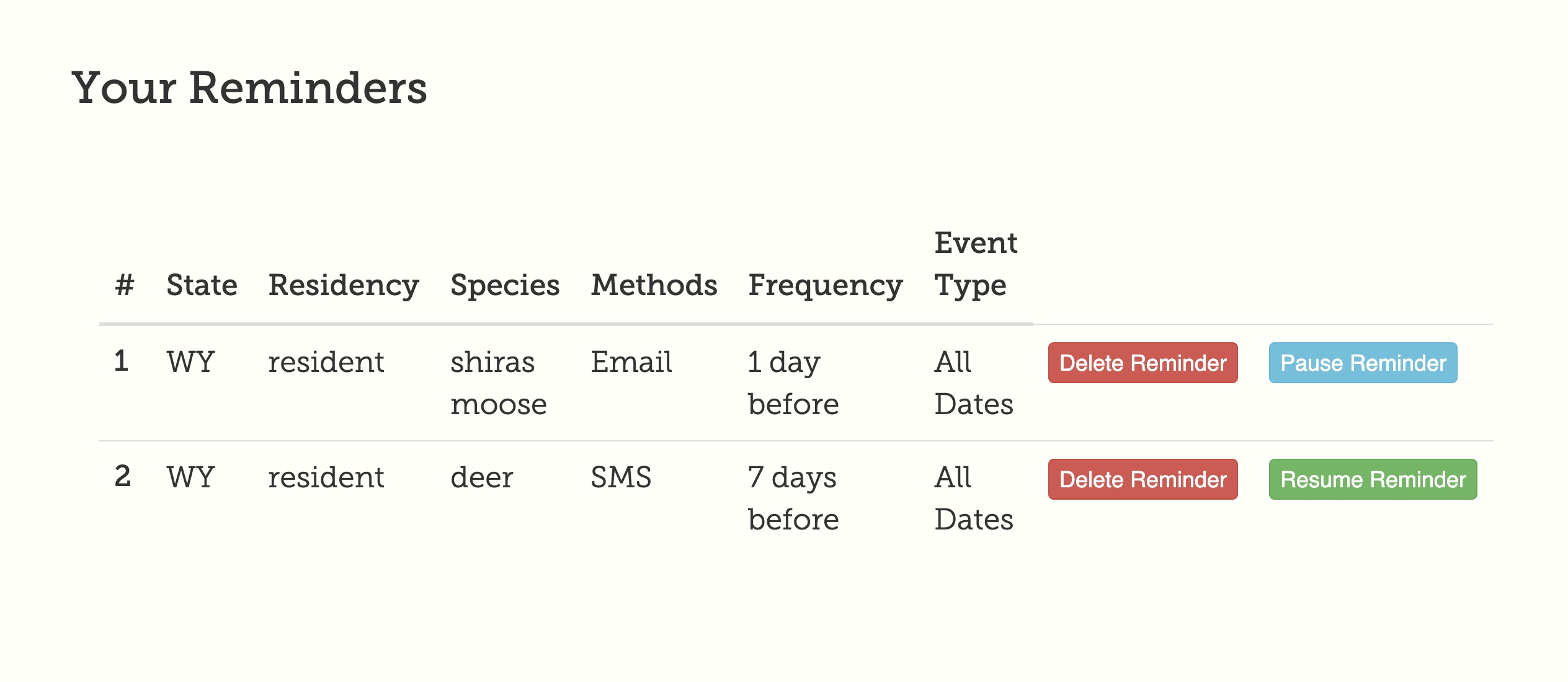 Posted: December 15, 2020