Every year I try to hunt a new state. This isn't a recipe for success necessarily but rather adventure and testing out the HuntScore platform. In 2021 I decided Idaho was going to be my state. In the Spring I'd chase black bear and the Fall elk and deer. To up my odds for Fall success, I figured I'd look for some units that had decent black bear success rates along with deer and elk. Looking for mid to high FreezerScores for black bear, deer and elk led me to focus on the Elk City zone. These units were rugged but not too rugged, had plenty of national forest land to hunt (like most of central and northern idaho) and good over-the-counter tag options.
Idaho issues general season nonresident licenses starting December 1st every year. There is a limit or cap on the number of nonresident tags sold in each elk zone or deer unit. Most caps are reached within hours of the licenses going on sale so getting a license requires you to be online and ready to attempt to purchase a license when sales start. A few buddies and I were gonna meet up for the deer hunting so we all got online and attempted to purchase licenses at 10am Mountain time.

It was a complete shit show. IDFG's website crashed or hung up, we'd get kicked out of the "virtual line" or select our licenses and get to the payment page which would just hang up. After about 3 hours of this fiasco, we all finally managed to complete our license purchases. We joked that this was probably a prelude to how our trip would end up going! I also picked up a black bear license and decided I'd head out in the Spring to chase bruins and learn the terrain.
Hunting Bears
As Spring rolled around I began planning and watching the snow pack, waiting for enough snow to melt so I could do a little scouting for the Fall but also chase some bears. A call into the local IDFG office revealed that following one of the main creeks and hiking adjacent drainages would be a good strategy. The wildlife officer said early May would be a good time based on the rate of snow pack melt. However a few commitments (wedding, bachelor party, family in town) pushed my trip back to Memorial Day weekend. So much for optimal timing!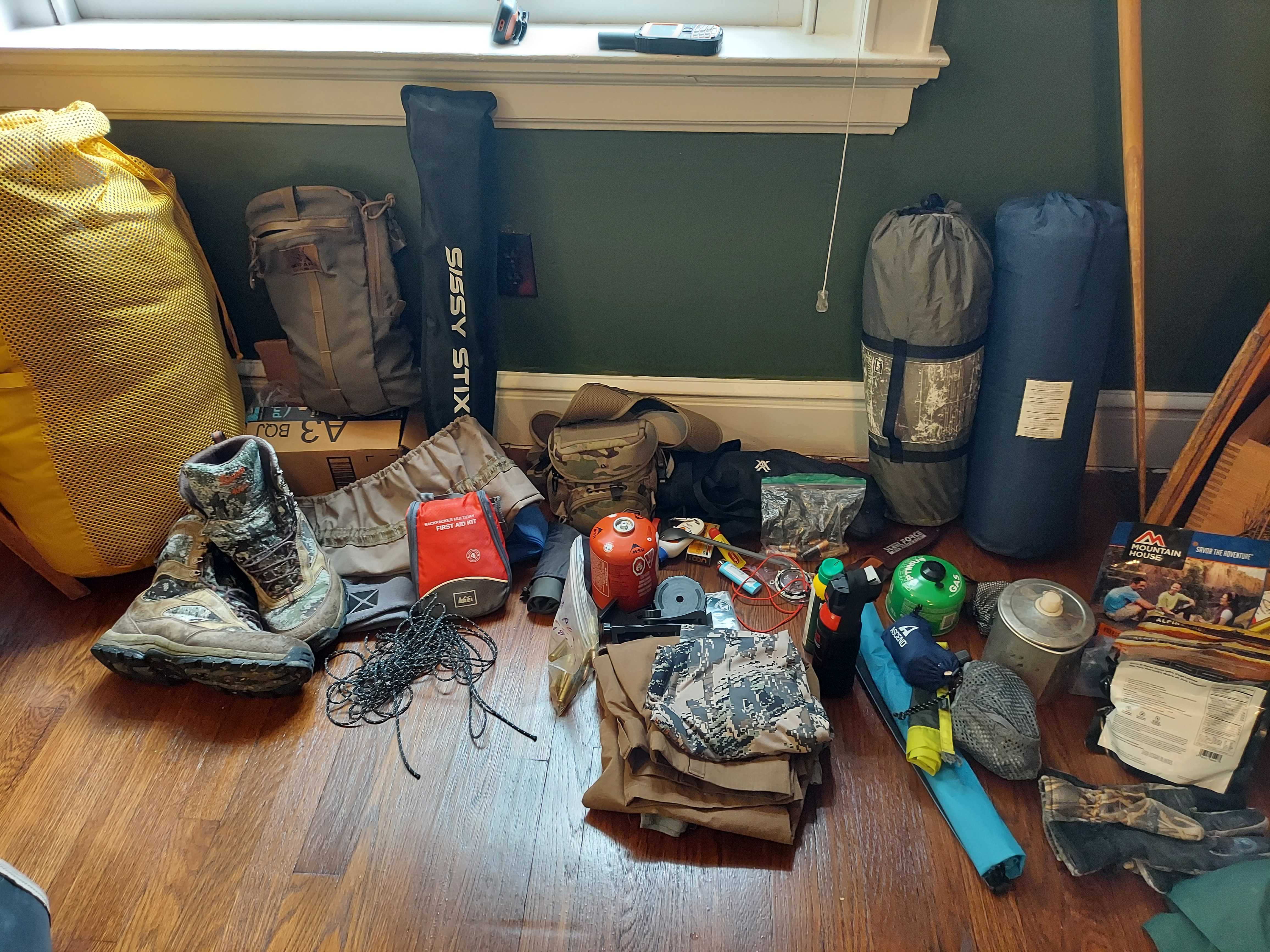 Late Thursday night I finished packing and, as with every hunting trip, anticipation of the hunting, hiking and solitude began to well. Man I couldn't wait to get into the mountains! The drive from Kansas City to central Idaho was 26 hours. Anything under 18 hours I'll do in a day but this would require a stop overnight. So I got up early Friday and hit the road. By Friday night I found myself burning across the the Utah and Idaho state line in search of some BLM land to pull off on and throw up my tent. One lesson I've learned is sleeping in the driver's seat of the truck is a recipe for a sore back and neck. So I take the extra 5 minutes and setup the tent.
By 4am I was back on I-93 burning my way North. After several hours of driving through the mountains North of Boise and passing through a festival along the Salmon River in Riggins, I was nearing my destination. As I puttered along the forest service roads in the Nezperce National Forest, I passed campsite after campsite filled with folks. Idahoans clearly enjoy and use their local national forests! These folks were tearing around on ATV's, camping with family and friends and just exploring the thousands of surrounding acres. My inner crumudgeon instantly cursed these interluders because who doesn't want 2.2 million acres to themselves? But better reason said I should just be happy these people were having a good time and then hike back far away from them.
The forecast was for hot weather. In fact, by day 3 of hunting the gates of hell were supposed to be open and temps would reach the mid 90's. Not exactly the type of weather that drives day long bear action. Undettered I hiked a few miles down an old logging road which turned into a hiking trail and wound down a large canyon. The plan was to hike in 4 miles and glass a large canyon that should have snow up around 7000 feet of elevation but otherwise open. I walked slowly along the trail looking for scat and paw prints.
Over the years I've learned the importance of using well trodden trails whenever possible. I'm no longer the young fool who goes bushwhacking up the mountain or down the canyon only to be out of gas half way to my destination. The road and trail were easy walking and along the way I was able to identify a nice little trickle of water to fill my water bladder in. While I didn't cross any bear scat or tracks I spied a couple cow elk grazing on a small bench downhill of the logging road. I watched them for a minute and rested. It was now mid afternoon and the temp was climbing into the low 80's. The weight of the pack with 5 days of meals and my old .300 Weatherby helped establish the pattern for the hunt. Hike, sweat, stop, hike, sweat, stop would be my rythm for the next few days. The heat would make sure there was plenty of sweat!
I reached my glassing point with 4 hours of daylight left. It wasn't a great spot to camp but was a good glassing knob. The knob was within an old burn that had a number of widow makers standing about. The forecast was for calm skies and wind so I made due. I was setup on a side drainage off the main river. The plan was to glass the big drainage in hopes of spotting some black bear and then figure out if there was an approach that didn't require super human strength and stamina. With the tent setup, I quickly got behind the spotting scope and started picking apart the drainage.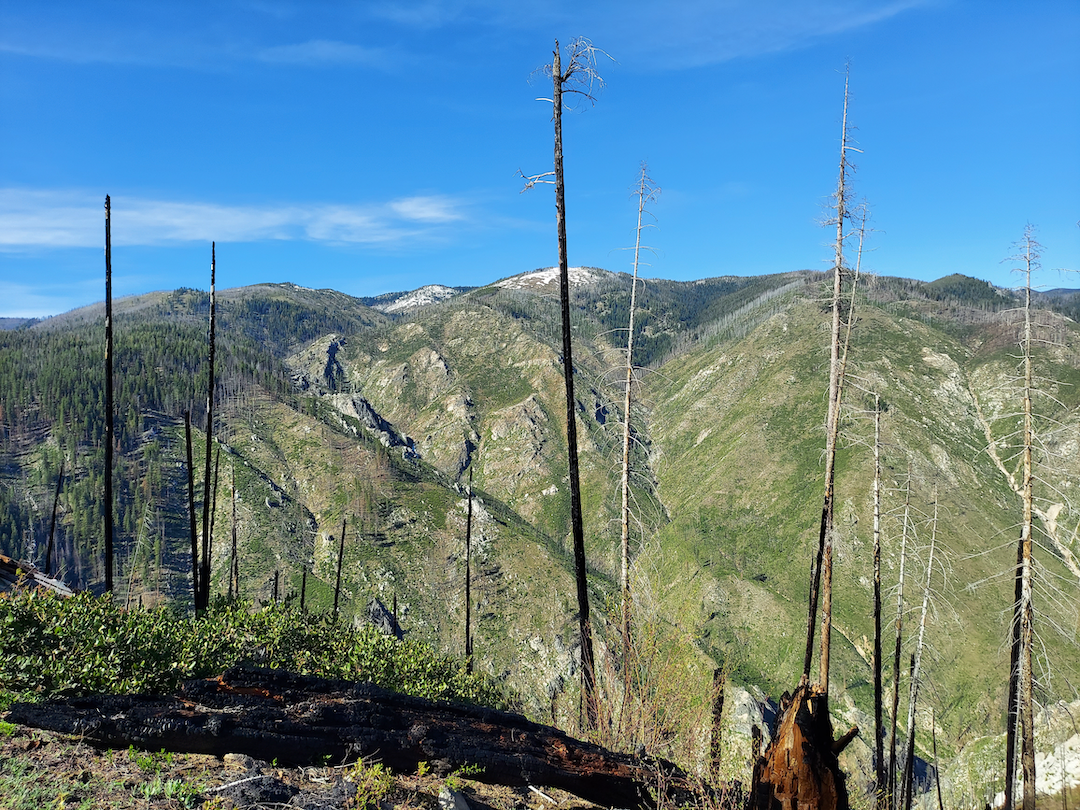 Over the course of the next 4 hours, I spied lush grassy hillsides, several elk and a pretty magnificient waterfall roaring out of one little crevice to my left. The snow line hung stubbornly at about 6800 feet, soon to be eviscerated by the impending heat wave. The evening faded away with the sun blazing intense orange, pink and purple hues against the stratus clouds hanging on the horizon. The next morning, up early I settled behind the glass. It was uneventful but peaceful. By noon I thought it wise to abandon the canyon and instead check the hillsides to my south. The river drainage ran east and west and I could hike along some trails and old logging roads. Elevation would be lower, between 4500 to 5500 feet.
I worked my way down along a logging road and ran into some more elk feeding on another little bench. Certainly a pattern was emerging that I'd keep in mind for the Fall. I'd be back with deer and elk tags in hand and as much as I was hunting bear I was learning the country for the Fall. The heat continued to rise all day and by late afternoon hit the upper 80's. The country was a little thicker, offering 200-500 yard openings around each draw. The goal was to find fresh scat, tracks and/or lush grass hillsides. Given that it was late Spring, pretty much everything was green and offered browse for meandering bear. So I started to focus my effort more on covering ground and finding fresh sign.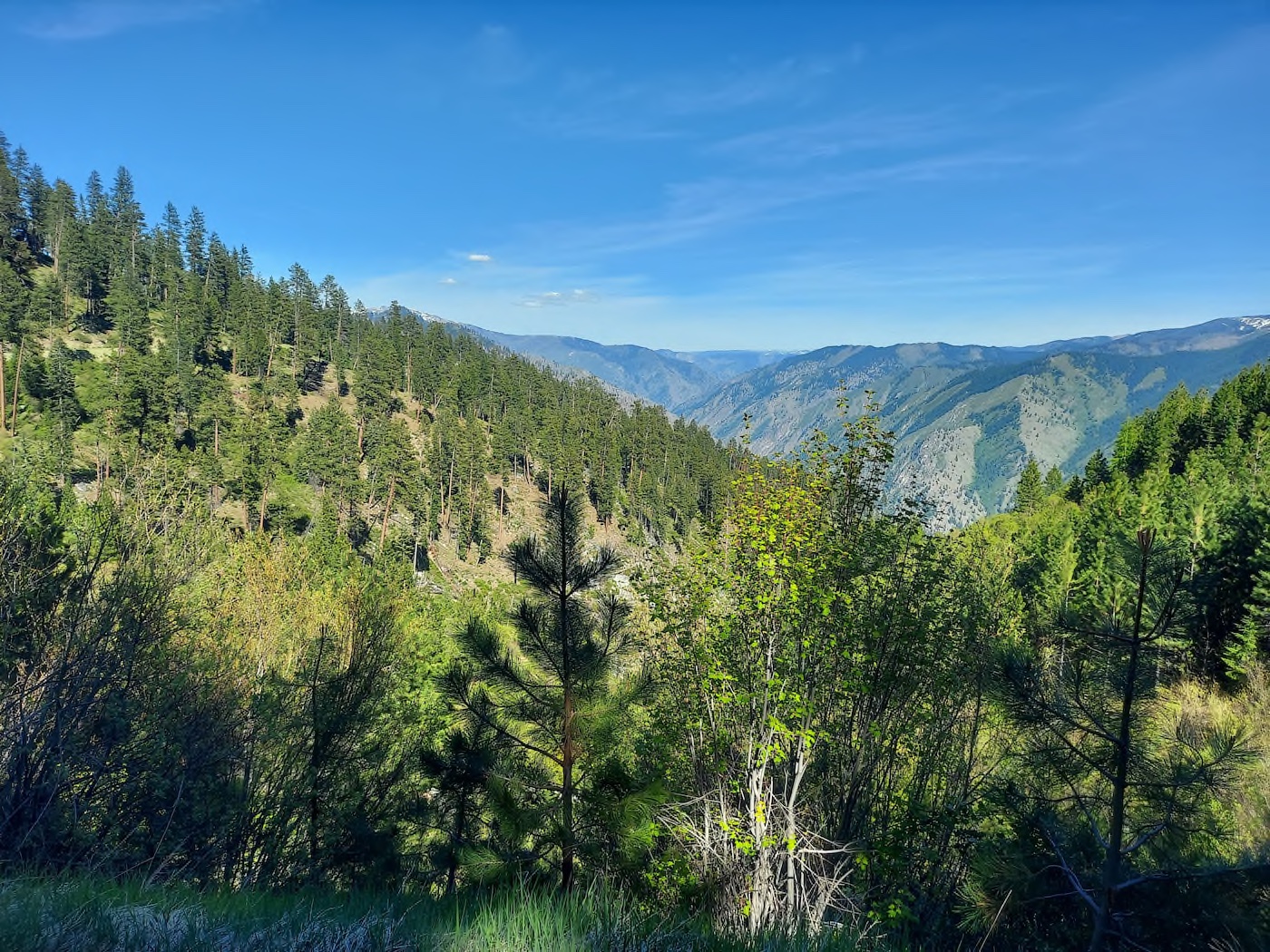 The evening would pass with lots of walking and a few hours of glassing. Some dry bear scat signaled I was probably weeks late and the evening passed without event. As I trudged back up to the knob were camp was it seemed more likely that I needed to focus on finding fresh bear sign. Given the next few days would be in the nineties and the only sign I had seen was old, I figured tomorrow I might head for the snow line and see if I could turn anything up there.
That next morning after an hour or two of glassing, I hiked roughly 3.5 miles back to the truck. The day was already starting to warm up and promised to be an asskicker. I drove up a forest service road to a trailhead that wound to a long ridge with plenty of draws to peak into and some open hillsides. The trail ran along the bottom of a canyon then climbed steeply up the ridge. The topo lines looked tight and the cover was thick pine save for an avalanche chute about halfway down the trail. I loaded my pack expecting to spend 2.5 days atop the ridge. Given the snow line, this was really the only high spot along the snow line that was accessible. If this didn't work I'd have to move to plan C...whatever that might be.
After about 2 miles of hiking the northeast side of the canyon the trail veered south. As I zoomed in on the my phone, it became apparent the trail was about to cross a creek running along the bottom of the canyon floor. The trail would then recross and head directly uphill a quarter mile later. In the distance a hushed rush of water filled the woods and I hoped it would be shallow enough to cross.
As I approached the creek, it was clear the heat and snowpack combined to create a vicious water crossing. I poked and prodded my way up and down stream through the thick blowdown trying to find a better spot to cross. The water was ripping, every spot appeared to be at least waist high. While the creek wasn't particularly wide, maybe 15-20 feet, the velocity made me think there wasn't a safe spot to cross. Dejected I sat down and ate some lunch. My stupidity in not looking at the trail closer meant a lot of burned energy and time as I started the 1.5 hour hike back to the truck. By 1pm I put 7 miles under my belt with a full pack. Couple that with upper 80 degree temps and I kind of had it with the day!
In a conversation earlier that Spring with a conservation officer, he'd suggested I hunt along one the highways that cut through the rugged mountains. The highway had plenty of south slopes and good access during early Spring. While it wasn't early Spring anymore, I figured I'd give it a try since the high country was kicking my butt. I realized I didn't have offline maps that covered the road entirely and made an hour drive into town hoping for a fast internet connection. The internet was spotty and slow. After an hour of failed downloads, I remembered my handheld gps had a landownership map which would suffice.
There were numerous USFS campsites along the highway and a few fifth wheels parked in each. Although Memorial weekend was past, a few folks were still enjoying some time out in the woods. The terrain was bit more varied along the highway. Much more open on the south slopes with thicker grass and fewer trees. It looked promosing but steep! Plus the next day temps would reach 95 degrees by the afternoon. With the heat, first and last light would probably be the best opportunity to spot a bear. So I found a little pull off, made camp, started a little fire and kicked back to enjoy a beer now that I was no longer hoofing it in the backcountry. It's always best to go into a tough situtation in a good mode.
The next morning I started up from the river valley floor before sunrise and by shooting light had gained around a 1000 feet of elevation. The terrain looked good with a large flattish plateau another 500 feet above me. Lots of fingers ran off the plateau toward the river valley floor. The draws in the back of the fingers looked thick and like the kind of spot a black bear could hide relatively undisturbed. Later in the day hiking down a vine chocked game trail in the back of one of these draws, I found the only fresh bear scat during the trip.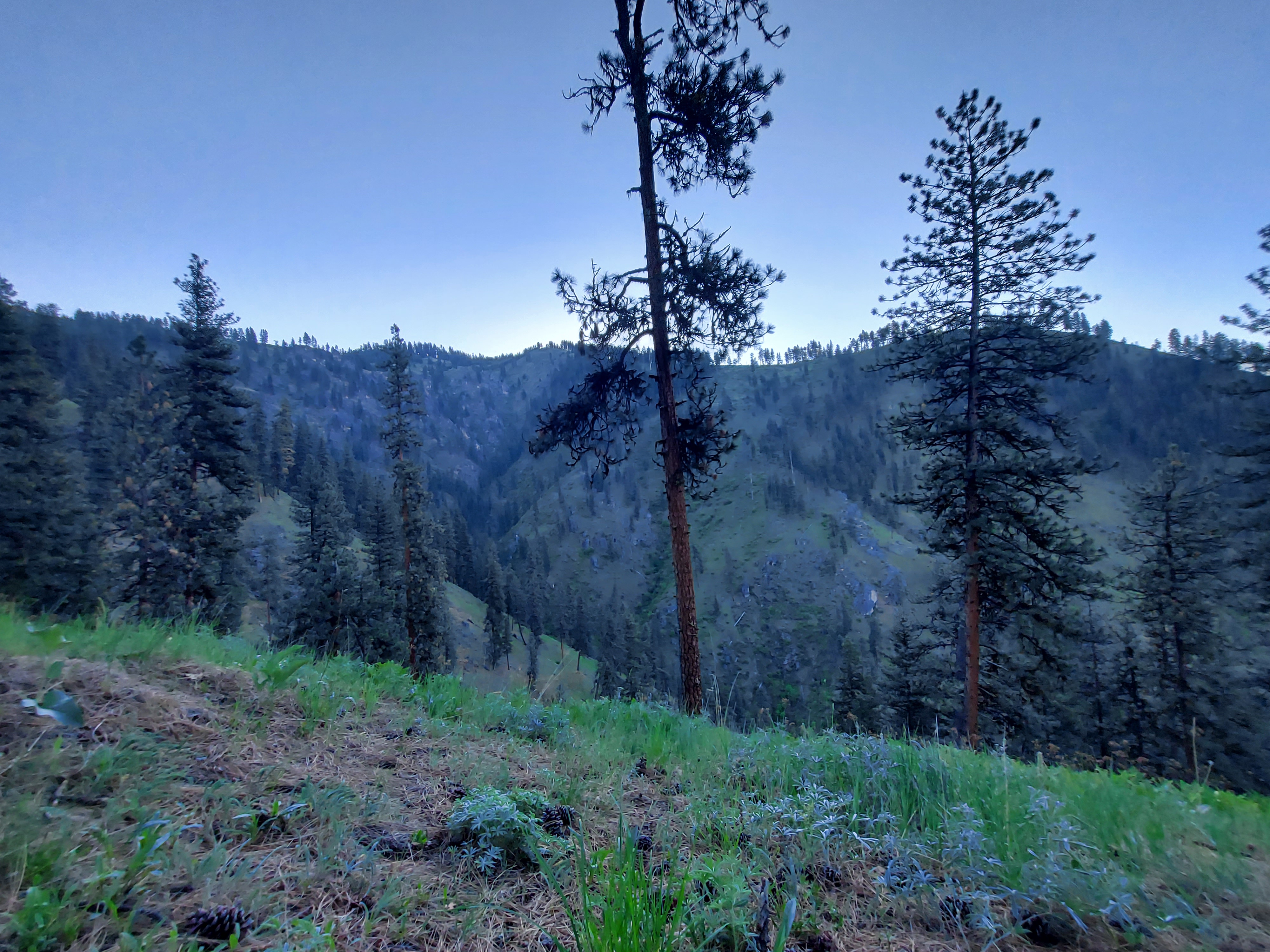 At about sunrise I reached a good glassing knob and settled in. By around 9am the temperature was pushing into the upper 70's and I decided it didn't make a lot of sense to run aroud the ridge top in the heat all day. So about 4 hours after starting my ascent I was descending. Slowly I made my way back down to the valley floor with so much as seeing a deer. The hillside was steep and covered with pine needles in certain spots which made the going pretty treacherous. Around noon I was back at my truck, drenched in sweat.
By midday the truck temperature was reading 98 degrees and I decided to call it a day. Tomorrow morning I had to start the drive home and the last spot I was hoping to check out had a prescribed burn going on. So I pitched the tent next to the river and kicked back and drank a cold beer. I'd be back in 5 months to hunt deer and elk. I was armed with a better knowledge of the terrain and all the spots that didn't seem to hold bear in the Spring. And if I filled my ungulate tags, I'd be back for round two of chasing black bears. A little wiser, with the appropriate maps and in cooler temperatures. Despite the high temps and lack of sightings it felt like a win-win.
Posted: November 15, 2022